Some of our most popular Interactive Events are the Cross Cut Sawing, Axe Throw, Match Split, and Logroll. We have over a dozen lumberjack events for you to choose from. This allows you to customize your venue to fit your needs. Whether it's one event for one hour or all the events for a few days, we can do it all.
Cross Cut Sawing:
In teams of two, contestants push and pull on a 5-foot long saw until they successfully cut through a block of wood.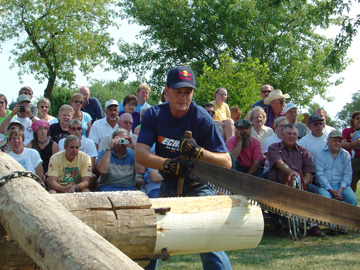 Axe Throw:
Individuals throw a 2.5 lb axe from 20 feet away in an attempt to hit a target. Each ring on the target is worth different points with the bulls eye being the goal. Contestants are given three throws to accumulate the most points they can. Depending on the space available or if it is an indoor set up, a cage similar to a baseball batting cage will be set up for safety. Indoor setups include a covering to protect the original floor.
Match Split:
A block of wood 36 inches tall is placed in front of the contestant with a standard match inserted into the middle of it and sticking straight up. Using an axe, a contestant starts by lining up the axe and the top of the match. When ready, the contestant raises the axe up. While still holding onto the handle of the axe, the contestant drops the axe in an attempt to split the match, causing it to light. Points are awarded for each of the three attempts.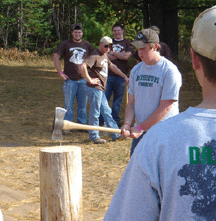 Logroll:
This is a very popular event at colleges. Contestants try to stay on top of a floating log for as long as they can before they fall off into a nice cool refreshing tank of water. Try as many times as you like to get the longest time.
Chainsaw Carving:
This event is only for the pro's. Watch as professional carvers turn a regular block of wood into a spectacular piece of work. Basic carvings can take as little as a few minutes; more detailed work can usually be accomplished in an hour or under.